Follow the star 2016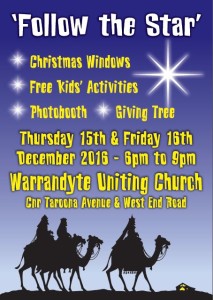 Follow the Star!
Stars, angels, bells and Christmas trees capture the imagination of children as they wonder what Christmas day will bring. Christmas is a joyful time of year and the people of Warrandyte Uniting Church want to share their love of Christmas with the community and this year they are doing this by creating a series of window displays entitled 'Follow the Star'. Come and be amazed!
EVERYBODY IS INVITED…
Thursday 15 December
and
Friday 16 December 6pm to 9pm.
Lots of free, fun activities for kids and a last minute Christmas gifts stall.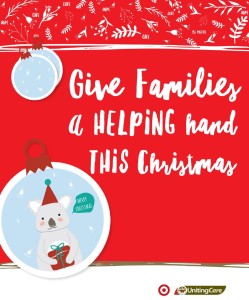 There will be a Giving Tree and the opportunity to place a gift for those who can't afford to celebrate Christmas.
75 Peace totems – and counting!

Many community groups painted wonderful peace totems. These have been placed in the peace area amidst the natural bush, the mandala area and the labyrinth. People shared hopes and visions for peace while they designed and painted these wonderful peace poles.
Participants came from all walks of life – preschoolers, aged care residents, asylum seeker groups, artists and amateurs.
As you wander the area, let your mind and heart be taken to places of peace and hope.
We invite you to walk the nearby labyrinth. You may leave life's busyness and gain a renewed sense of peace and tranquility.
Peace is ….. our children speak, come and hear.

250 school children wrote their ideas on what peace is. Their words were honest, inspiring and thought provoking. Some entries have been recorded by the children for the sound box in the peace gardens.
Come and hear our childrens' messages of peace. Here's just a sample:
"Peace is…..what keeps the world together in harmony and happiness"
"Peace is….. a flow of respect, value and courage. Peace is freedom"
"Peace is….a caring and respectful world and loving people for who they are!"
"Peace is….quiet, peace is sitting time, peace is writing time"
"Peace is….what God gave us"
"Peace is….to me no war, no violence, no killing, no racism and no guns"
"Peace is….when I am peaceful I like to have snuggles with my mum I like it"
Whittlesea Interfaith Network

Whittlesea Interfaith Network enjoyed their recent visit to the Peace wall. They shared their thoughts of peace with each other and commented on something in particular about a tile or the design which spoke to them in a special way.
They offered thoughts and prayers for peace written on handmade paper which will be planted in the peace garden.
Lions International Peace Poster Competition


In combination with the Lions Club, an exciting display of posters by young people was held in Warrandyte Uniting Church hall. Over 250 young people showed their visions of peace and the wonderful display was enjoyed by all those who visited. Judges were impressed with the colour and creativity of the art work and with how well the young artists portrayed the theme of "A Vision of Peace"