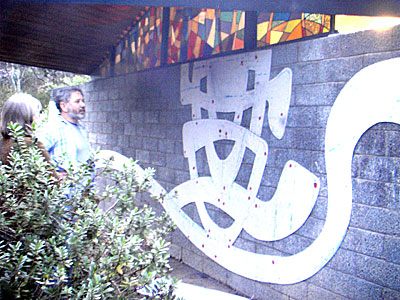 A project of importance, a vision of the Uniting Church
To meet artistic people, their talents part of the search
A mammoth ceramic structure is the project now at hand
To adorn the church itself, the best art piece in the land.
It is to be a community project, ten groups are now on call
Creating clay flowers, birds, animals, leaves and all
Peace is the key word, uniting their talents as one
An ambitious task with fulfilment, I believe they have won.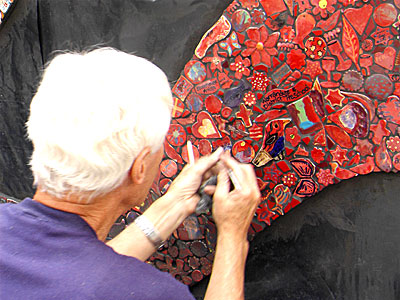 The feature, our local Yarra river as it dances at play
The Eastern aspect, pink sky of dawn, to warmer through the day
Yellow of sun, soon long shadows, green as evening draws near
Night, dark, now the moon and the stars shine bright and clear.
The river and the seasons make it rise and fall
The rapids and it's beauty will embrace one and all
The trees and the wattle, the emblem of our land
Now the people and this project, now working hand in hand.
4000 plus tiles to bake, now the kiln to fill
Returning for painting/glazing and assembling with skill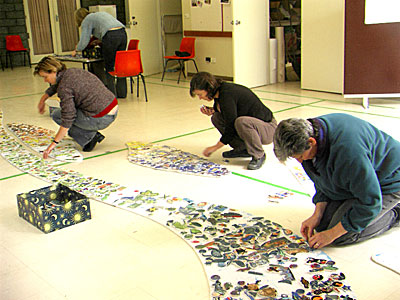 Apart from the river, the fields bush and scrub
The hills and the valleys and the dove of peace above.
Piece by piece, both tiles and people meet
The vision of the church will soon be complete
There is a message here, peace is now at hand
It is hoped that the world will soon make it's stand.
Slowly coming together both the people and the task
It will be a fantastic structure, more than you could ask
A talking piece for ages come and see where we have been
The overall effect, the church and trees, all part of the scene.
Peter Renn, May 2006